Pomeranians are one of the most popular dog breeds in the United States. They are also one of the most notorious for peeing everywhere. Why do Pomeranians pee everywhere?

There are a few reasons why this may be the case. One reason Pomeranians may pee everywhere is that they are small dogs with small bladders. This means that they have to go more frequently than larger dogs.

Another reason may be that Pomeranians are bred to be companion animals and love attention. Therefore, they may see urinating as a way to get attention from their owners. Finally, some Pomeranians may have medical conditions that cause them to urinate more frequently or uncontrollably.

If you have a Pomeranian that is urine marking around your home, there are a few things you can do to try and stop it. First, take your dog out more frequently so they have less of a need to mark inside. You can also confine your dog to a smaller area when you can't supervise them closely so they don't have as many opportunities to mark.

Finally, if all else fails, talk to your veterinarian about possible medical causes and treatment options for urinary incontinence in dogs.
How to Stop Your Dog From Peeing Indoors
Pomeranians are small dogs with a lot of energy. They are also very curious and like to explore their surroundings. This can sometimes lead to them peeing in places they shouldn't.

There could be a number of reasons why your Pomeranian is peeing everywhere. It could be that they are not fully housetrained yet and are still learning where it is appropriate to go to the bathroom. Or, it could be that they are marking their territory and trying to assert themselves in your home.

If you think your Pomeranian is peeing too much in places they shouldn't, there are a few things you can do to help correct the behavior. First, make sure you are taking them out frequently enough so that they have an opportunity to relieve themselves outside. Secondly, if you catch them in the act, scold them firmly and take them outside right away so they know that what they did was wrong.

Finally, praise them when they go potty in the right place so they know that this is what you expect from them. With some patience and consistency, you should be able to train your Pomeranian not to pee everywhere inside your home.
Why Does My Pomeranian Pee When Excited
Pomeranians are small, lively dogs that are known for their playful and friendly personality. Unfortunately, they are also known for another quirk – peeing when they get excited. While it may seem humorous at first, it can actually be quite a nuisance.

If you're wondering why your Pomeranian pees when excited, here's what you need to know. There are two main reasons why Pomeranians may urinate when they get excited. The first is simply due to excitement – as their heart rate increases and they get worked up, they may not be able to hold their bladder.

This is more common in young or inexperienced dogs who haven't yet learned to control their bladder muscles. With time and patience, most Pomeranians will outgrow this behavior. The second reason is medical in nature and is more serious.

Some Pomeranians suffer from a condition called submissive urination, which causes them to involuntarily urinate when feeling anxious or stressed. This can be caused by a variety of things, including loud noises, new people or animals, or even being scolded. If you suspect your Pomeranian has submissive urination, it's important to talk to your veterinarian so they can rule out any underlying medical conditions and help you come up with a plan to address the behavior.
Are Pomeranians Hard to Housebreak
Assuming you would like a blog post discussing whether Pomeranians are difficult to housebreak: Many new dog owners wonder just how hard it will be to potty train their new furry friend. The truth is, every dog is different and some may be easier to train than others.

So, what about Pomeranians? Are they hard to housebreak? The answer is maybe.

While all dogs require patience and consistency when being trained, some breeds are definitely more challenging than others. Pomeranians can be a bit stubborn, which can make potty training take longer than usual. However, with patience and positive reinforcement, your Pom should eventually get the hang of things.

Here are a few tips that may help you successfully potty train your Pomeranian: -Start early: It's always best to start training as soon as possible, especially with puppies. The younger they are, the quicker they'll learn.

-Create a schedule: Dogs thrive on routine and predictability. Having set mealtimes and designated potty break times will help your Pom know when it's time to "go". -Use positive reinforcement: Be sure to praise your Pom whenever he or she goes in the right spot.

This will encourage them to keep up the good work! -Be patient: Like we said before, Pomeranians can be stubborn so it might take a little longer for them to catch on compared to other breeds. Just remain patient throughout the process and don't get discouraged – eventually they'll get it!
Why is My Pomeranian Shaking
If your Pomeranian is shaking, it could be due to a number of reasons. It could be cold, anxious, or in pain. If your dog is shaking and you're not sure why, it's best to take him to the vet to rule out any medical causes.

Shaking can also be a sign of excitement or joy. So if your Pomeranian is shaking and wagging his tail, he's probably just happy!
Pomeranian Panting
Pomeranian Panting – What Does It Mean and Is It Normal? Pomeranians are small dogs with big personalities. They are active and playful, but they also have a tendency to overheat easily.

This is why you may see your Pomeranian panting more often than other dogs. While panting is a normal behavior for all dogs, it's important to watch for excessive panting in your Pomeranian. If your dog is panting excessively, it could be a sign of heatstroke or other health problems.

Here's what you need to know about Pomeranian panting: why they do it, when it's normal, and when you should be concerned. Why Do Pomeranians Pant? There are several reasons why your Pomeranian may be panting:

1. To Cool Off As mentioned earlier, one of the main reasons why Pomeranians pant is to cool off. Their small size means that they can't regulate their body temperature as well as larger dogs.

When the weather is hot or they've been playing hard, they will start to pant in order to lower their body temperature through evaporation.
Pomeranian Breathing Fast While Sleeping
There are many reasons why your Pomeranian may be breathing fast while sleeping. It could be due to a medical condition, such as an infection or heart problem. Or it could be simply because they are over-heated and need to cool down.

If you're concerned about your Pomeranian's rapid breathing, take them to the vet for a check-up. In the meantime, try to keep them cool and comfortable. Make sure their sleeping area is well-ventilated and free of any blankets or pillows that could trap heat.

If possible, place a fan near their bed to help circulate air.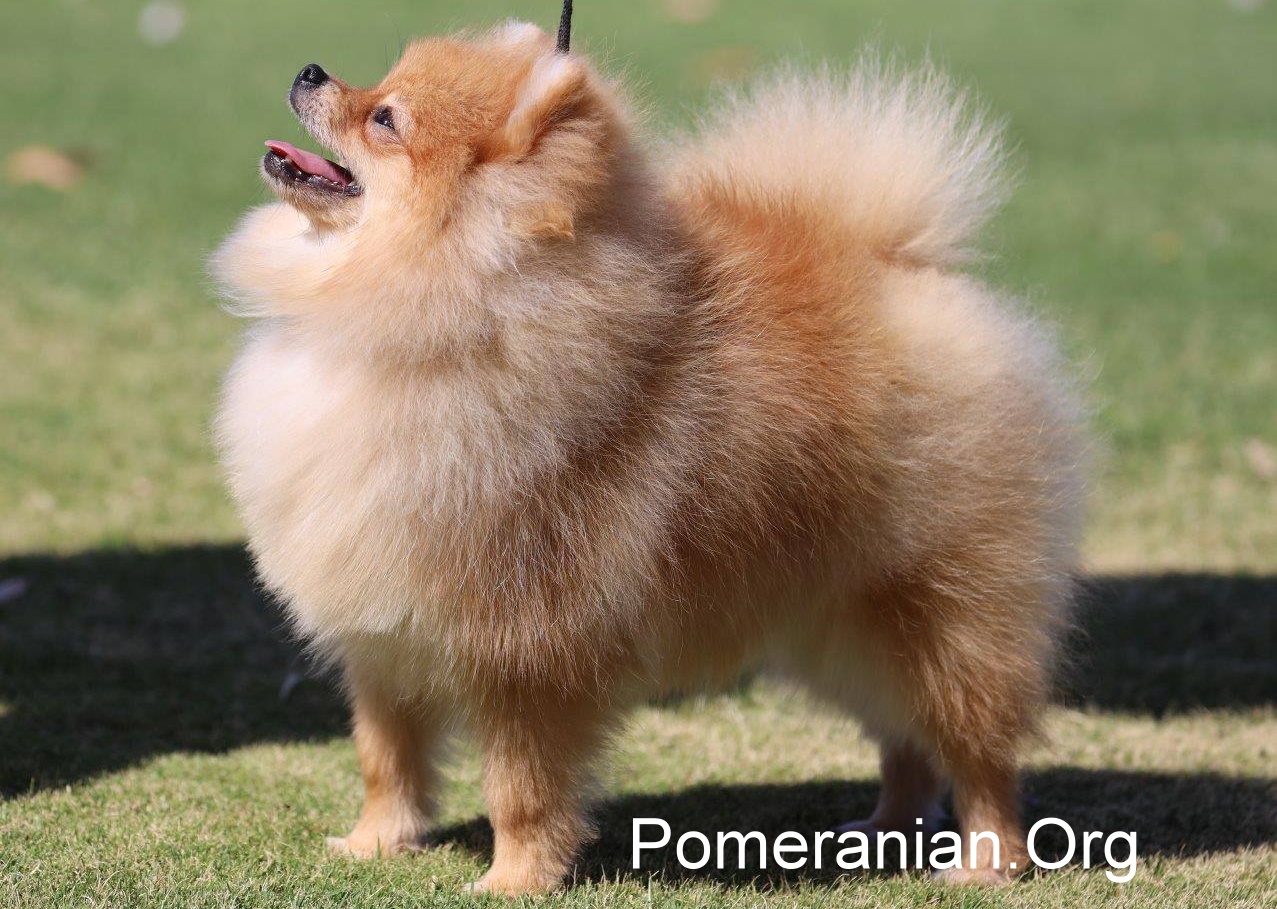 Credit: pomeranian.org
Why are Pomeranians So Hard to Potty Train?
Pomeranians are one of the most difficult breeds to potty train. They are very independent and stubborn, which makes it hard to get them to do what you want. There are a few things that you can do to make potty training easier for both you and your Pomeranian.

The first thing is to start early. Puppies learn best when they are young, so it is important to start potty training as soon as possible. If you wait too long, your Pomeranian will have already developed bad habits that will be harder to break.

The second thing is to be consistent. You need to be consistent with both the commands you use and the rewards you give. If you are inconsistent, your Pomeranian will get confused and won't know what is expected of him.

The third thing is to use positive reinforcement. This means rewarding your Pomeranian when he does something right instead of punishing him when he does something wrong. Positive reinforcement will help him understand what you want him to do and will also make him more likely to repeat the behavior in the future.
Why Does My Pomeranian Pee a Lot?
If you've noticed that your Pomeranian is urinating more frequently than usual, it's important to take note and consult with your veterinarian. While there could be a number of reasons for increased urination, it could also be a sign of a serious health condition. Here's what you should know about why your Pomeranian might be peeing a lot, and when you should seek medical attention.

One reason your Pomeranian might be urinating more often is due to increased water intake. If your dog is drinking more water than usual, they will naturally need to relieve themselves more frequently. This could be due to hotter weather or simply because they are thirsty.

Make sure your Pomeranian has access to fresh, clean water at all times and monitor their intake to ensure they're staying hydrated. Another possible reason for increased urination is excitement or anxiety. If your dog is peeing more when they get excited or during stressful situations, it's likely just nerves causing them to release urine involuntarily.

This is usually nothing to worry about and shouldn't require medical attention unless the problem persists or becomes severe. Try training exercises with your dog to help them stay calm in exciting situations or during moments of stress. However, if your Pomeranian starts urinating excessively without an increase in water intake or during calm periods, this could signal a bigger problem.

Excessive urination can be caused by kidney disease, diabetes mellitus, Cushing's disease, urinary tract infections (UTIs), and certain medications. If left untreated, these conditions can cause serious health problems so it's important to contact your vet right away if you notice any changes in urinary habits..
How Many Times a Day Should a Pomeranian Pee?
Assuming you are talking about an adult Pom: The average Pomeranian should urinate between 6 and 8 times per day. However, this can vary depending on a number of factors such as age, activity level, diet, etc.

If your Pom is urinating more or less frequently than usual, it could be a sign of a health issue and you should consult your veterinarian.
How Long Can Pomeranians Hold Their Pee?
Pomeranians are small dogs with a lot of energy. They are also very intelligent and can be trained to hold their pee for longer periods of time. However, like all dogs, they will eventually need to go and the length of time they can hold it will depend on several factors.

The first factor is the age of the dog. A young puppy will have a much smaller bladder and will need to go more often than an adult dog. As the Pomeranian ages, they will be able to control their bladder better and hold it for longer periods of time.

Another factor that will affect how long your Pomeranian can hold their pee is whether or not they are spayed or neutered. Dogs that have been spayed or neutered tend to have less frequent urges to urinate than those that haven't. This is because the hormones that control urination are no longer present in their bodies.

Finally, the amount of water your Pomeranian drinks each day will also affect how often they need to go out. The more water they drink, the more frequently they'll need to relieve themselves. If you want your Pomeranian to be able to hold their pee for longer periods of time, make sure they're getting plenty of fresh water every day.
Conclusion
Pomeranians are small dogs with a lot of energy. They are also known for their big personalities. Unfortunately, this combination often leads to Pomeranians peeing everywhere.

Why do they do this? There are a few reasons why Pomeranians may pee more than other dogs. First, they have small bladders and can't hold their urine as long as larger breeds.

Second, they're very active and playful, which means they need to go more often. Finally, some Pomeranians just have weak sphincters and can't control their urinary tract muscles very well. If your Pomeranian is peeing everywhere, there are a few things you can do to help them (and yourself) out.

First, make sure they have plenty of opportunities to go potty outside. This means taking them out frequently – at least every couple of hours – and giving them time to sniff around and find the perfect spot. You may also want to consider using belly bands or diapers when inside the house so that accidents don't happen as often.

Finally, be patient with your pup – it takes time for them to learn where they should and shouldn't go potty!
{ "@context": "https://schema.org", "@type": "FAQPage", "mainEntity":[{"@type": "Question", "name": "Why are Pomeranians So Hard to Potty Train? ", "acceptedAnswer": { "@type": "Answer", "text": " Pomeranians are one of the most difficult breeds to potty train. They are very independent and stubborn, which makes it hard to get them to do what you want. There are a few things that you can do to make potty training easier for both you and your Pomeranian. The first thing is to start early. Puppies learn best when they are young, so it is important to start potty training as soon as possible. If you wait too long, your Pomeranian will have already developed bad habits that will be harder to break. The second thing is to be consistent. You need to be consistent with both the commands you use and the rewards you give. If you are inconsistent, your Pomeranian will get confused and won't know what is expected of him. The third thing is to use positive reinforcement. This means rewarding your Pomeranian when he does something right instead of punishing him when he does something wrong. Positive reinforcement will help him understand what you want him to do and will also make him more likely to repeat the behavior in the future." } } ,{"@type": "Question", "name": "Why Does My Pomeranian Pee a Lot? ", "acceptedAnswer": { "@type": "Answer", "text": " If you've noticed that your Pomeranian is urinating more frequently than usual, it's important to take note and consult with your veterinarian. While there could be a number of reasons for increased urination, it could also be a sign of a serious health condition. Here's what you should know about why your Pomeranian might be peeing a lot, and when you should seek medical attention. One reason your Pomeranian might be urinating more often is due to increased water intake. If your dog is drinking more water than usual, they will naturally need to relieve themselves more frequently. This could be due to hotter weather or simply because they are thirsty. Make sure your Pomeranian has access to fresh, clean water at all times and monitor their intake to ensure they're staying hydrated. Another possible reason for increased urination is excitement or anxiety. If your dog is peeing more when they get excited or during stressful situations, it's likely just nerves causing them to release urine involuntarily. This is usually nothing to worry about and shouldn't require medical attention unless the problem persists or becomes severe. Try training exercises with your dog to help them stay calm in exciting situations or during moments of stress. However, if your Pomeranian starts urinating excessively without an increase in water intake or during calm periods, this could signal a bigger problem. Excessive urination can be caused by kidney disease, diabetes mellitus, Cushing's disease, urinary tract infections (UTIs), and certain medications. If left untreated, these conditions can cause serious health problems so it's important to contact your vet right away if you notice any changes in urinary habits.." } } ,{"@type": "Question", "name": "How Many Times a Day Should a Pomeranian Pee? ", "acceptedAnswer": { "@type": "Answer", "text": " Assuming you are talking about an adult Pom: The average Pomeranian should urinate between 6 and 8 times per day. However, this can vary depending on a number of factors such as age, activity level, diet, etc. If your Pom is urinating more or less frequently than usual, it could be a sign of a health issue and you should consult your veterinarian." } } ,{"@type": "Question", "name": "How Long Can Pomeranians Hold Their Pee? ", "acceptedAnswer": { "@type": "Answer", "text": " Pomeranians are small dogs with a lot of energy. They are also very intelligent and can be trained to hold their pee for longer periods of time. However, like all dogs, they will eventually need to go and the length of time they can hold it will depend on several factors. The first factor is the age of the dog. A young puppy will have a much smaller bladder and will need to go more often than an adult dog. As the Pomeranian ages, they will be able to control their bladder better and hold it for longer periods of time. Another factor that will affect how long your Pomeranian can hold their pee is whether or not they are spayed or neutered. Dogs that have been spayed or neutered tend to have less frequent urges to urinate than those that haven't. This is because the hormones that control urination are no longer present in their bodies. Finally, the amount of water your Pomeranian drinks each day will also affect how often they need to go out. The more water they drink, the more frequently they'll need to relieve themselves. If you want your Pomeranian to be able to hold their pee for longer periods of time, make sure they're getting plenty of fresh water every day." } } ] }