Pomeranians are one of the most popular breeds of dogs. They are also one of the most high-strung, yappy, and barky breeds. Pomeranians can be a handful for even the most experienced dog owner.

So, how do you calm down a Pomeranian? There are a few things that you can do to help calm your Pomeranian down. First, make sure that they are getting enough exercise.

A tired dog is a good dog. Take them on long walks or runs and play with them in the yard. If they have too much energy, it will come out as barking and other unwanted behavior.

Second, provide them with plenty of mental stimulation. This can be in the form of training, puzzle toys, or anything else that keeps their mind active. Boredom is often the root cause of bad behavior in dogs.

Finally, give them lots of love and attention. Pomeranians are very social creatures and need human interaction to stay happy and healthy.
How to Calm Down A Cute and Funny Pomeranian Dog.
Pomeranians are one of the most high-strung, yappy dog breeds. They are also very intelligent and easily bored, so it is important to keep them mentally and physically stimulated. If your Pomeranian is starting to become agitated or anxious, there are a few things you can do to help calm them down.

First, try offering them a chew toy or bone to gnaw on. This will help distract them from whatever is making them upset and give them something positive to focus on. You can also try running or playing with them for a few minutes to tire them out physically.

Finally, make sure they have plenty of space to run around and explore – a cramped environment will only make their anxiety worse.
How to Tire Out a Pomeranian
A Pomeranian is a small, active dog breed that requires lots of exercise and stimulation. If your Pom isn't getting enough physical and mental activity, he may become bored or destructive. To tire out your Pomeranian, engage him in interactive play sessions, give him plenty of opportunities to run and explore outdoors, and provide him with challenging toys and puzzles.

With time and patience, you can turn your bouncing bundle of energy into a sleepy pooch!
Pomeranian Behavior Issues
Pomeranians are one of the most popular dog breeds, but they also come with a unique set of behavior issues. Here's what you need to know about some common Pomeranian behavior problems and how to deal with them. One of the most common Pomeranian behavior problems is separation anxiety.

This occurs when your dog becomes anxious or stressed when left alone. Separation anxiety can manifest in a number of ways, including barking, whining, chewing, digging and even attempts to escape. If you think your Pomeranian may be suffering from separation anxiety, it's important to consult with a veterinarian or animal behaviorist for help.

Another common issue is aggression towards other dogs or people. While this isn't necessarily a bad thing (some owners want a guard dog), it can become a problem if your dog is overly aggressive or doesn't know how to properly socialize with other animals and people. If you're concerned about your Pomeranian's aggression levels, again, it's best to seek professional help.

Finally, many Pomeranians suffer from small dog syndrome . This is when a dog believes that he is the alpha leader of the pack (even though he may be the smallest dog in the house). Small dog syndrome can lead to dominance-related behaviors such as growling , snapping , biting and resource guarding .

If you see any of these behaviors in your Pomeranian, it's important to nip them in the bud immediately by enrolling him in obedience training classes and/or working with an animal behaviorist.
What Age Do Pomeranians Calm down
One of the most common questions new Pomeranian owners ask is "When will my Pomeranian calm down?". The answer to this question is not as simple as it may seem. Every dog is different and will mature at different rates.

However, there are some general guidelines that can be followed. Most Pomeranians will start to calm down around the age of two. This is when they reach adulthood and are no longer considered puppies.

During this time, they will still have moments of playful energy, but overall they will be more relaxed and easy-going. It's important to remember that even though your Pomeranian may be calmer as an adult, they still need plenty of exercise and stimulation. A bored Pomeranian can become destructive or anxious, so make sure to keep their minds and bodies active with daily walks, games, and puzzles.
My Pomeranian Puppy is Out of Control
If you're struggling to keep up with your Pomeranian puppy's energy levels, you're not alone. Pomeranians are one of the most active breeds of dogs, and their boundless energy can be a handful for even the most experienced dog owners. Luckily, there are a few things you can do to help tire out your pup and get them under control.

One of the best ways to wear out a Pomeranian is through interactive playtime. This could include playing fetch, tug-of-war, or any other game that gets your pup moving and thinking. You can also try giving them puzzle toys to work on, like Kongs stuffed with treats.

If you have another dog in the house, letting them play together is also a great way to tucker both of them out. Another way to help burn off some energy is by taking your Pomeranian on multiple short walks throughout the day instead of just one long one. This will give them plenty of opportunities to explore and smell all the different sights and smells along the way.

And if you really want to tire them out, consider adding in some jogging or running intervals during your walks – they may surprise you with how well they keep up!
Pomeranian Anxiety Symptoms
If you have a Pomeranian, you may be familiar with some of the common anxiety symptoms that these dogs can experience. Your Pom may become clingy and needy, bark excessively, pace or pace back and forth, tremble or shake, pant heavily, refuse to eat, and display other signs of distress. While some degree of anxiety is normal for all dogs (and humans!), if your Pom's anxiety is severe or excessive it can lead to problem behaviors such as chewing on furniture or clothing, urinating or defecating in the house, and more.

If you're concerned about your dog's anxiety levels, talk to your veterinarian about possible causes and treatment options.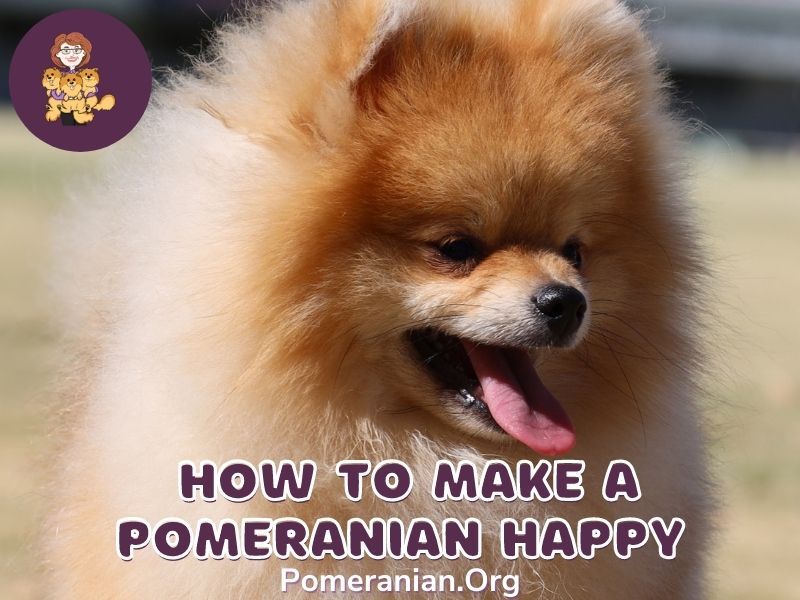 Credit: pomeranian.org
At What Age Do Pomeranian Puppies Calm Down?
When do Pomeranians calm down? Pomeranians are high-energy dogs that require significant daily exercise, but they also have a reputation for being yappy and hyperactive. Fortunately, most Pomeranians will settle down as they age and become more content with napping and spending time with their families.

While each dog is different, most Pomeranians will begin to calm down around 2 years of age. Puppies require a lot of attention and energy, but once your Pom reaches adulthood, he will likely be much calmer. Adult Pomeranians typically need only 30 minutes to an hour of exercise each day, although some may still enjoy longer walks or play sessions.

If your Pom becomes restless or destructive when left alone, it's important to provide him with plenty of toys and chews to keep him occupied. Once your Pomeranian hits the 2-year mark, you may notice that he sleeps more during the day and is less interested in playing fetch or going for long walks. He may even start asking to be carried instead of walking on his own!

Although some owners find this behavior frustrating, it's actually quite normal for older Poms. Just like human seniors, older dogs often prefer quieter activities and need more rest than they did when they were younger. If your adult Pomeranian isn't getting enough exercise, he may become restless or start chewing on furniture or other household items out of boredom.

To prevent this from happening, make sure to take him on at least one walk per day and give him plenty of opportunities to play with toys or interact with other dogs. With a little patience and understanding, you can help your Pom enjoy a happy, well-rounded life at any age!
Why is My Pomeranian Very Hyper?
Pomeranians are a small breed of dog that originally came from the Pomerania region in northern Poland and Germany. They are known for being very active, playful and intelligent dogs. However, they can also be quite hyperactive at times.

There are a number of reasons why your Pomeranian may be very hyper. One reason could be that they are not getting enough exercise. Pomeranians need at least 30 minutes of exercise each day to stay healthy and fit.

If they are not given enough opportunity to run around and burn off energy, they may become restless and destructive inside the home. Make sure you take your Pomeranian for a walk or run every day, or provide them with toys and playtime outside so they can release all their energy. Another reason for hyperactivity could be boredom.

If your Pomeranian is left alone for long periods of time without anything to do, they may start acting out in an attempt to get your attention. Make sure you provide them with plenty of chew toys and puzzle toys to keep their minds challenged, and try to spend as much time as possible playing with them when you're home so they don't get bored. If your Pomeranian has always been hyperactive since you got them, it could just be their personality.

Some dogs are simply more high-energy than others and there's nothing wrong with that! Just make sure you give them plenty of exercise and stimulation throughout the day so they can stay happy and healthy.
How Do You Control Anger in Pomeranians?
Pomeranians are one of the most popular dog breeds in the world, and they're known for their bouncy personalities and big hearts. But like all dogs, Pomeranians can get angry from time to time. If you're wondering how to control anger in Pomeranians, here are a few tips:

1. Avoid punishment. Punishing your Pomeranian for getting angry will only make them more anxious and stressed, which can lead to more outbursts of anger. Instead, try to focus on positive reinforcement when your dog is behaving well.

2. Understand what triggers their anger. Is it loud noises? Being left alone?

Having too much energy? Once you know what sets off your Pomeranian's anger, you can try to avoid those triggers or help them deal with them in a better way. For example, if loud noises trigger their anger, you could provide them with a safe place to go where they can't hear the noise (like a crate or quiet room).

3. Help them release their energy in positive ways. A tired dog is a happy dog, so make sure your Pomeranian is getting enough exercise every day. This will help them release their energy in positive ways instead of through destructive behavior or aggression.

4. Teach them some basic obedience commands . Knowing that they have some control over their environment can help reduce stress levels and prevent outbursts of anger in Pomeranians . Try teaching your dog commands like "sit," "stay," and "come" – this will give them a sense of calmness and confidence .

5 . Seek professional help if needed . If you've tried everything and nothing seems to be working , it might be time to seek professional help from a certified animal behaviorist or trainer . They can assess your individual situation and offer customized advice on how to best deal with your Pomeranian's anger issues .
How Do I Know If My Pomeranian is Stressed?
If you notice any of the following behaviors in your Pomeranian, they may be experiencing stress: 1. Increased vocalization – If your normally quiet Pomeranian starts barking or yipping more than usual, it may be a sign that they're feeling stressed. 2. Hiding – If your Pom starts hiding under furniture or in their crate more often, this could be another sign that something is bothering them and causing them stress.

3. Loss of appetite – A decrease in appetite or sudden loss of interest in food can also indicate that your dog is under stress. This is especially true if they were previously enthusiastic eaters. 4. Changes in bathroom habits – Stress can sometimes cause dogs to either urinate or defecate more frequently (or sometimes less frequently).

If you notice any changes in your Pomeranian's bathroom habits, it could be a sign of stress. 5. Shaking or trembling – Many dogs will shake or tremble when they're feeling anxious or stressed out. This is especially common if the dog is also panting excessively.
Conclusion
There are a few things you can do to calm down a Pomeranian. First, try to remove anystimuli that may be causing the dog to be anxious or excited. This may include turning offthe television, putting away toys, and removing people from the room.

Once the dog is in a quietenvironment, you can try using calming techniques such as offering a treat or toy, petting thedog gently, or speaking in a soft voice. If these methods don't work, you may need to consulta veterinarian for further assistance.
{ "@context": "https://schema.org", "@type": "FAQPage", "mainEntity":[{"@type": "Question", "name": "At What Age Do Pomeranian Puppies Calm Down? ", "acceptedAnswer": { "@type": "Answer", "text": " When do Pomeranians calm down? Pomeranians are high-energy dogs that require significant daily exercise, but they also have a reputation for being yappy and hyperactive. Fortunately, most Pomeranians will settle down as they age and become more content with napping and spending time with their families. While each dog is different, most Pomeranians will begin to calm down around 2 years of age. Puppies require a lot of attention and energy, but once your Pom reaches adulthood, he will likely be much calmer. Adult Pomeranians typically need only 30 minutes to an hour of exercise each day, although some may still enjoy longer walks or play sessions. If your Pom becomes restless or destructive when left alone, it's important to provide him with plenty of toys and chews to keep him occupied. Once your Pomeranian hits the 2-year mark, you may notice that he sleeps more during the day and is less interested in playing fetch or going for long walks. He may even start asking to be carried instead of walking on his own! Although some owners find this behavior frustrating, it's actually quite normal for older Poms. Just like human seniors, older dogs often prefer quieter activities and need more rest than they did when they were younger. If your adult Pomeranian isn't getting enough exercise, he may become restless or start chewing on furniture or other household items out of boredom. To prevent this from happening, make sure to take him on at least one walk per day and give him plenty of opportunities to play with toys or interact with other dogs. With a little patience and understanding, you can help your Pom enjoy a happy, well-rounded life at any age!" } } ,{"@type": "Question", "name": "Why is My Pomeranian Very Hyper? ", "acceptedAnswer": { "@type": "Answer", "text": " Pomeranians are a small breed of dog that originally came from the Pomerania region in northern Poland and Germany. They are known for being very active, playful and intelligent dogs. However, they can also be quite hyperactive at times. There are a number of reasons why your Pomeranian may be very hyper. One reason could be that they are not getting enough exercise. Pomeranians need at least 30 minutes of exercise each day to stay healthy and fit. If they are not given enough opportunity to run around and burn off energy, they may become restless and destructive inside the home. Make sure you take your Pomeranian for a walk or run every day, or provide them with toys and playtime outside so they can release all their energy. Another reason for hyperactivity could be boredom. If your Pomeranian is left alone for long periods of time without anything to do, they may start acting out in an attempt to get your attention. Make sure you provide them with plenty of chew toys and puzzle toys to keep their minds challenged, and try to spend as much time as possible playing with them when you're home so they don't get bored. If your Pomeranian has always been hyperactive since you got them, it could just be their personality. Some dogs are simply more high-energy than others and there's nothing wrong with that! Just make sure you give them plenty of exercise and stimulation throughout the day so they can stay happy and healthy." } } ,{"@type": "Question", "name": "How Do You Control Anger in Pomeranians? ", "acceptedAnswer": { "@type": "Answer", "text": " Pomeranians are one of the most popular dog breeds in the world, and they're known for their bouncy personalities and big hearts. But like all dogs, Pomeranians can get angry from time to time. If you're wondering how to control anger in Pomeranians, here are a few tips: 1. Avoid punishment. Punishing your Pomeranian for getting angry will only make them more anxious and stressed, which can lead to more outbursts of anger. Instead, try to focus on positive reinforcement when your dog is behaving well. 2. Understand what triggers their anger. Is it loud noises? Being left alone? Having too much energy? Once you know what sets off your Pomeranian's anger, you can try to avoid those triggers or help them deal with them in a better way. For example, if loud noises trigger their anger, you could provide them with a safe place to go where they can't hear the noise (like a crate or quiet room). 3. Help them release their energy in positive ways. A tired dog is a happy dog, so make sure your Pomeranian is getting enough exercise every day. This will help them release their energy in positive ways instead of through destructive behavior or aggression. 4. Teach them some basic obedience commands . Knowing that they have some control over their environment can help reduce stress levels and prevent outbursts of anger in Pomeranians . Try teaching your dog commands like sit, stay, and come – this will give them a sense of calmness and confidence . 5 . Seek professional help if needed . If you've tried everything and nothing seems to be working , it might be time to seek professional help from a certified animal behaviorist or trainer . They can assess your individual situation and offer customized advice on how to best deal with your Pomeranian's anger issues ." } } ,{"@type": "Question", "name": "How Do I Know If My Pomeranian is Stressed? ", "acceptedAnswer": { "@type": "Answer", "text": " If you notice any of the following behaviors in your Pomeranian, they may be experiencing stress: 1. Increased vocalization – If your normally quiet Pomeranian starts barking or yipping more than usual, it may be a sign that they're feeling stressed. 2. Hiding – If your Pom starts hiding under furniture or in their crate more often, this could be another sign that something is bothering them and causing them stress. 3. Loss of appetite – A decrease in appetite or sudden loss of interest in food can also indicate that your dog is under stress. This is especially true if they were previously enthusiastic eaters. 4. Changes in bathroom habits – Stress can sometimes cause dogs to either urinate or defecate more frequently (or sometimes less frequently). If you notice any changes in your Pomeranian's bathroom habits, it could be a sign of stress. 5. Shaking or trembling – Many dogs will shake or tremble when they're feeling anxious or stressed out. This is especially common if the dog is also panting excessively." } } ] }